Properties in Los Balcones


Los Balcones
Los Balcones is a popular residential area only 3 kilometers from the city of Torrevieja, south of the Costa Blanca and next to the beaches of Orihuela Costa. The complex enjoys a privileged situation beside the salt lakes and is surrounded by multiple services, such as supermarkets, bars and restaurants, pharmacy, hotel, and the renowned Hospital of Torrevieja.

Elche-Alicante airport and Murcia airport are just 30 minutes drive away, as this development is just two minutes from the A7 motorway and the N332 main road. If you want to get to Los Balcones from each of both airports, you have different options, including buses, taxis or rental cars. Torrevieja can also be reached from Los Balcones by taxi or bus.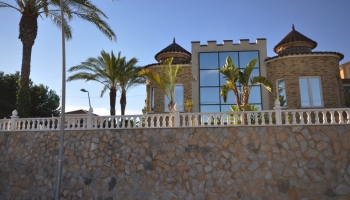 Los Balcones we find different styles of detached villas, terraced houses and some apartment buildings. Many Spanish people and also families from other parts of Europe have bought a house in Los Balcones and they now enjoy pleasant temperatures and many services throughout the year. Los Balcones is a popular tourist destination for the holiday seasons because of the proximity of several quality golf courses and the beaches in Orihuela Costa, located less than 3 kilometers away.
If you are planning a visit to Los Balcones, you will certainly enjoy it the most, as there is a large variety of activities, attractions, shopping, and excursions to be done during your stay in this popular seaside area.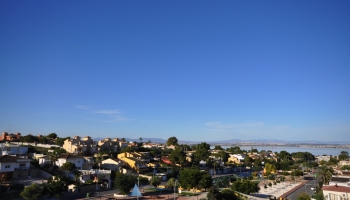 Los Balcones has its own shopping facilities in Filton commercial center, with various shops, banks, supermarkets, opticians and more available. A ten minute drive will take you to the Habaneras Shopping Centre in Torrevieja, and within five minutes you will reach the spectacular Zenia Boulevard, the largest shopping center in the province of Alicante, a real city of shopping, dining and entertainment for the whole family and all ages.
When you fancy a walk near the sea, both Torrevieja and Orihuela Costa have plenty on offer, including marinas, street markets and promenades, near which you can also find many restaurants, tapas bars, ice cream shops and all kind of shops.
The closest beach to Los Balcones urbanization is Punta Prima, less than a 5 minute drive or a walk of about twenty minutes. Along this beach there are several bars and restaurants of different types and nationalities as well as supermarkets of the first brands, and the Flamenca Beach Commercial Centre in Playa Flamenca, with more bars and restaurants, various shops and a go-karts track open all year round to delight young and old.
In terms of gastronomy, thanks to the proximity of the port of Torrevieja, the best option is any dish based on fish or seafood. Most of the restaurants in the area serve Spanish cuisine, but there are many specialising in English, Indian, Italian, Mexican, Dutch and Chinese food.
Very near Los Balcones, less than 10 minutes drive, we get to the famous Villamartin Plaza, a place with several decades of history, surrounded by shops, bars, cafes, banks and restaurants. It is one of the best places to eat or for a night out.
Villamartin is also home to one of the best golf courses on the Costa Blanca, Villamartin Golf, and two minutes drive there are two other quality golf courses, Las Ramblas Golf and Campoamor Golf. There are two other equally interesting options within 30 minutes drive, namely La Marquesa Golf in Ciudad Quesada and La Finca Golf in Algorfa.
If you buy a house in Los Balcones, you will definitely want to visit nearby towns on the Costa Blanca to enjoy the best of each. For example, you can visit the city of Elche, famous for its very large palm groves and the beautiful city of Alicante, with excellent beaches, a spectacular historic center and a fantastic marina. You can also go to the city of Murcia, traditional and modern at the same time, or the tipically Spanish town of Rojales to see its cave houses and the historic city of Orihuela, birthplace of the famous poet Miguel Hernandez and a monumental city throughout.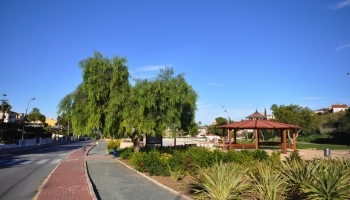 When you want to try new beaches, you can drive to Guardamar del Segura for just twenty minutes and enjoy its wide beaches, almost wild. Be sure to also visit the water parks of Ciudad Quesada and Torrevieja, and the aquarium of the lovely fishing town of Santa Pola.
And for those days when you prefer to stay closer to home, in a 5-minute car you can find the best beaches and coves in Orihuela Costa, including Punta Prima, Playa Flamenca, La Zenia, Cabo Roig and Campoamor, not forgetting La Mata and the rest of beaches in Torrevieja, including the Playa de los Locos, Cala del Palangre, Playa del Cura, the Juan Aparicio promenade and Playa Los Naufragos.
All of them have the European Blue Flag, which guarantees the cleanliness of the waters, efficient security measures and good facilities for the whole family. Many of these beaches have playgrounds and beach volleyball and beach soccer facilities. You can also practise kitesurfing, scubadiving, sailing and windsurfing.
Do you not think that Los Balcones may be the right place to buy your holiday or permanent home in Spain? Let us help you find it!