LOS ALTOS - COSTA BLANCA - PROPERTY FOR SALE
Altos is one of the most popular urbanizations of Torrevieja, thanks to its proximity to the center of the city, a distance of only about 4 kilometers, and its strategic position with respect to the beaches, just a couple of kilometers. This is one of the areas most requested by both Spanish tourists and other nationalities, and over the years it has become an ideal tourist destination for the whole family in every season.
Very well connected, the complex is located just minutes from access to the AP-7 motorway, through which you can get to Alicante International Airport in approximately 40 minutes , while in about 30 minutes you can get to the airport of Murcia. And thanks to its many attractions in terms of gastronomy and leisure, buying a house in Los Altos guarantees an appropriate environment for both relaxation and fun.
Most of the properties in this area have just one or two floors, so here we can find all kinds of terraced houses and detached villas, all of them featuring beautiful gardens and large communal swimming pools.
For years, Los Altos has hosted families from different parts of Spain who have chosen to spend their summer holidays in this part of Costa Blanca South. Nowadays it has also become a reference point for hundreds of families from northern Europe, which have established their residence in this area permanently. No matter the origin or nationality, everyone can find a place to feel at home in Los Altos.
One of the main attractions when you own a home in Los Altos is the wide variety of sandy beaches and clear waters available in just a few minutes by car. In fact, all beaches in the area are awarded the European Blue Flag year after year for the quality of its waters and facilities.
Moreover, Los Altos has also the advantage of being located just minutes from the beautiful beaches of Orihuela Costa, also awarded with Blue Flags, so that every day you can choose between beaches and coves as spectacular as those in La Zenia, Playa Flamenca and Punta Prima, to name but a few.
As for the beaches of Torrevieja, we must point out the areas of La Veleta and Cala Ferris, as well as the beaches of Acequión and Los Náufragos, which are the closest. If you buy a holiday home in Los Altos you will be able to enjoy a relaxing stroll along the promenade Juan Aparicio in the heart of the city of Torrevieja, while admiring the magnificent views, or have a snack or a delicious rice in any of its terraces. The fishing port of Torrevieja is another attraction in its own right for visitors to this part of the southern Mediterranean and the coast of Alicante.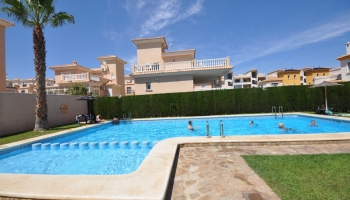 The area of Los Altos also has several green spaces equipped with playgrounds for the little ones, so that all ages will find reasons to come to spend the summer or even longer periods in this popular urbanization of the Costa Blanca, not leaving aside the water parks that will delight adults and children in the summer months.
Another option to thoroughly enjoy the sea in summer is to go on a cruise along the coast to appreciate the natural beauty of the seabed of Torrevieja, or even navigate to the spectacular Tabarca Island and other parts of the south coast of Alicante, as they are an infallible destination when planning trips with friends or family.
Lovers of ecotourism and nature will be delighted after visiting the Natural Park of the Lagunas de La Mata and Torrevieja, where you can observe a wide variety of protected species while taking a beneficial walk through vineyards and enjoying exceptional views.
Golf lovers will be pleased to know that living in Los Altos you will have available no less than three fantastic golf courses, Villamartín, Las Ramblas and Campoamor, just five minutes drive. These golf courses are well known throughout the Costa Blanca for the quality of its features and services.
The street markets have made their way into every city, and ten minutes by car from Los Altos you find one of the biggest outdoor markets in Spain located in the town of Torrevieja, where they sell all kinds of food, clothing and accessories. This market is held every Friday and there are other markets, though smaller, in other areas close to the urbanization of Los Altos, such as La Florida and Playa Flamenca.
If you actually prefer shops, there are plenty of supermarkets around Los Altos where you can get fresh produce such as fish, meat, fruits and vegetables, and all kind of processed food. Any time of day and every day of the week you will find a supermarket where you can make our weekly shopping or get the last minute item you may need when cooking.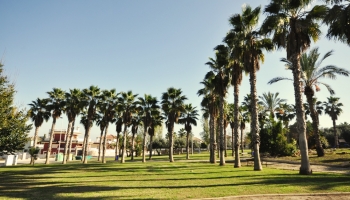 Without going any further, a 5 minute drive from the Los Altos takes you to Zenia Boulevard, the largest shopping center in the province of Alicante, with dozens of shops of the best brands, supermarkets, etc, not to mention the wide range of restaurants and bars where you can try the best cuisine in the area.
If we are looking for evening entertainment, Torrevieja has more than a hundred bars where you can have a drink while you enjoy the pleasant summer temperatures. And in the urbanization Los Altos you can choose from a wide variety of international restaurants for every taste, offering traditional Spanish and German cuisine, as well as Indian, Italian and many more.
For these and other reasons, Los Altos is an ideal place to spend your holiday in both summer and winter months, so be sure to talk to us to find your home in Los Altos. We will guide you throughout the process!
Take a look at the properties for sale in Los Altos, Costa Blanca, Spain